Girl in Dior and Ghetto Brother To Debut With Creators in Attendance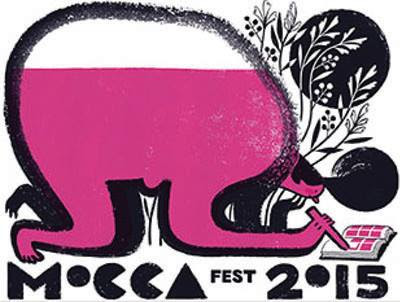 On April 11th & 12th, NBM Publishing (Tables 401, 402) once again heads to the MoCCA Arts Festival and we are happy to have attending both cartoonist Annie Goetzinger, who will be appearing to promote the debut of her luscious new book, GIRL IN DIOR and writer Julian Voloj who will be signing copies of his book, the powerful GHETTO BROTHER: WARRIOR TO PEACEMAKER along with the colorful subject of the book, Benjy Melendez.
About Girl in Dior
The Girl in Dior is Clara, a freshly hired chronicler, fan of fashion and our guide in the busy corridors of the brand new house of Christian Dior. It's February 12, 1947 and the crème de la crème of Paris Haute Couture is flocking to the momentous event of Dior's first show. In a flurry of corolla shaped skirts, the parade of models file down the runway. The audience is mesmerized: it's a triumph! Carmel Snow of Harper's Bazaar cries out: "It's quite a revolution, your dresses have such a new look!" Dior's career is launched and Clara's story begins. Soon, she is picked by Dior himself to be his model…
A biography docudrama marrying fiction and the story of one of the greatest couturier in history, it is also a breathless and stunning presentation of his best designs such as Lauren Bacall wore, rendered by bestselling artist Annie Goetzinger, seen for the first time on this side of the Atlantic.
About Ghetto Brother
An engrossing and counter view of one of the most dangerous elements of American urban history, this graphic novel tells the true story of Benjy Melendez, son of Puerto-Rican immigrants, who founded, at the end of the 1960s, the notorious Ghetto Brothers gang. From the seemingly bombed-out ravages of his neighborhood, wracked by drugs, poverty, and violence, he managed to extract an incredibly positive energy from this riot ridden era: his multiracial gang promoted peace rather than violence. After initiating a gang truce, the Ghetto Brothers held weekly concerts on the streets or in abandoned buildings, which fostered the emergence of hip-hop. Melendez also began to reclaim his Jewish roots after learning about his family's dramatic crypto-Jewish background.
Signing Schedule, Tables 401, 402

Annie will be appearing on the panel, Biography: The Lives of Artists on Sunday April 12 at 12:30pm  alongside cartoonists James Romberger, Marguerite Van Cook and Barbara Stok.
Annie, Julian and Benjy will be appearing at the NBM Table throughout the weekend.
SATURDAY
11:30 – 12:30 Annie Goetzinger
1:30 – 3:00 Julian Voloj
3:30 – 5:00 Annie Goetzinger
5:00 – 6:00 Julian Voloj
SUNDAY
12:00-1:00 Julian Voloj
1:30-3:00  Annie Goetzinger (immediately following her panel)
3:30-5:00 Julian Voloj and Benjy Melendez